Tēnā koutou katoa,
We hope you and your whānau are keeping well during this current Covid-19 outbreak. In these uncertain times, we have answers to your questions about the virus, the vaccination, and heart health.
Also this month, our latest TV ads about heart attack warning signs hit our screens. We're encouraging people to recognise the symptoms of a heart attack and call 111 straight away – making the right call is the best chance you have of reducing long-term damage to your heart.
This message is particularly important at the moment. In the last Covid-19 outbreak less people attended emergency departments with heart attacks and acute heart events, but it's vital you don't delay treatment. If you're experiencing heart attack symptoms, call 111 immediately.
Meanwhile, eating heart-healthy food is one of the best ways that you can look after your heart at home during lockdown. Sometimes, however, that feels easier said than done, especially on a tight budget, so we've teamed up with financial support service MoneyTalks to bring you top tips on eating well for less.
For now, stay safe and stay well.
Ngā manaakitanga (best wishes),
Angela Aldous
Head of Care and Support
The Covid-19 vaccine and your heart
Getting a Covid-19 vaccination is important for people with heart conditions or high blood pressure. We explain how the vaccine works, possible side effects, and its safety record.
Covid-19 and heart disease – your questions answered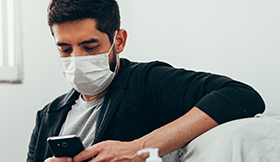 If you or a loved one has a heart condition, you're at higher risk of getting seriously ill from Covid-19. We answer some commonly asked questions about the virus and how it impacts your heart health.
A new Heart Foundation television advertising campaign has hit our screens to get New Zealanders to recognise a heart attack and act quickly by calling 111. Unfortunately, many people don't detect the warning signs or think they can shake them off.
Heart-healthy meals on a budget
Eating well doesn't have to be expensive. For Money Week 2021 (9-15 August) the Heart Foundation and financial support service MoneyTalks teamed up to share top tips on eating well for less.
Jack experienced a heart attack and pericarditis during the Covid-19 outbreak in 2020. Here he shares his story of the stress and anxiety it caused and explains how he's got his life back on track.
Pulse checks with the Pulse
This tasty beef curry recipe is easy to make and can be prepared a day in advance for a convenient meal.